What Is CBM?
Computer-Based Maths (CBM) was founded to push the reset button on the school subject of maths so it truly reflects today's real-world subject of maths, with its vitally important applications. This can only happen if we engender computational thinking—using computers in school as we do in the real world: to replace humans for calculating.
Real-world maths is more crucial than ever to our everyday lives. It holds the keys to unlocking the solutions to a multitude of problems: simple to complex, local to global, large and small. By contrast, maths education is diverging more and more from today's and tomorrow's requirements of countries, industry, further education... and students.
Unless we take harder, machine-computed maths back into the school curriculum, maths in education will continue on its ineffective downward spiral, destined for future failure—a future populated by bored and switched-off students, dissatisfied employers, bewildered governments, frustrated teachers and concerned parents.
Aware of the increasing divergence between school and real-life maths for more than a decade, Conrad Wolfram believed the growing political impetus, emerging computing ubiquity and practicality of interface and implementation made 2010 the right time to start computerbasedmath.org.
Conrad and his colleagues at Wolfram Research have been in a unique position at the epicenter of maths and its applications: using high-powered maths to develop the latest algorithms for Mathematica and Wolfram|Alpha software, employing mathematicians and other STEM specialists, supplying technology to the world's community of maths users and interacting with leading experts from all technical fields. That's not to mention involvement with thousands of universities, schools and independent courses worldwide.
Wolfram Research really is the "maths company"—the organisation with the world's broadest perspective on maths and computation. It is with that perspective that CBM will change maths education for good.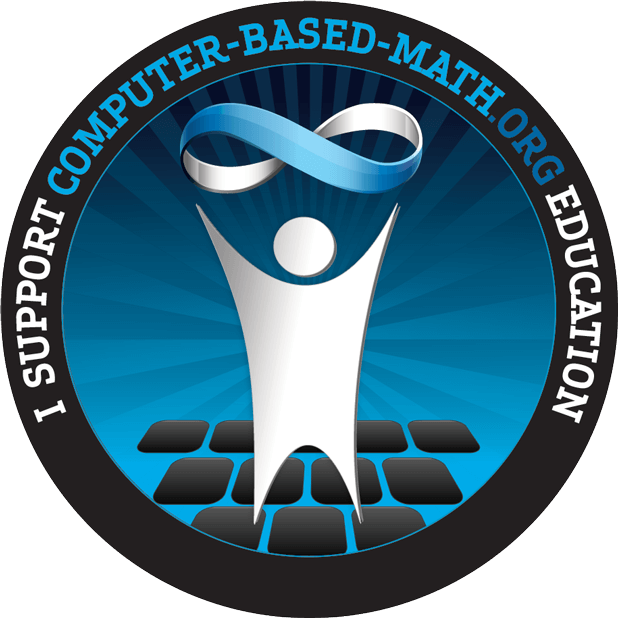 Computerbasedmath.org is a UK-registered company and aims to be self-supporting in delivering this fundamental change to maths education worldwide. Early projects have been established with the Estonian government, as well as in Sweden and Africa, and there is marked interest from many more governments and associated organisations like assessment authorities around the world. Thousands of schools are keen to get materials. Companies are interested not only in employee training but in associating their brand with better maths in schools.
Computer-Based Maths is a long-term project. Conrad Wolfram believes it will take a minimum of 25 years to transform school maths worldwide, but that in the end, this change is inevitable. It will happen differently in each country; the first countries to make the change will likely gain the most advantage.
---
Approach
CBM believes in building materials, not just describing vision. We are delivering a supportive learning environment including interactive materials, based on mapping out curricula and assessments, all tethered to outcomes we believe it's important to achieve. Real stuff for real people to use.
We use our own lexicon to describe the structure of our materials: for example, terms like modules (primary elements of materials, marking out the principal problem to solve), chapters (subproblems of modules) and modalities (pedagogical styles for each element). In essence, we are building a "complete" school and adult education maths curriculum from scratch, as the anchor subject for computational thinking across all subjects. It is complete in the sense that it covers understanding, knowledge and experience—fundamental qualities that we believe are crucially needed by individuals and society.
A crucial part of education is to learn today's up-to-date, real-life machinery. CBM has layered necessary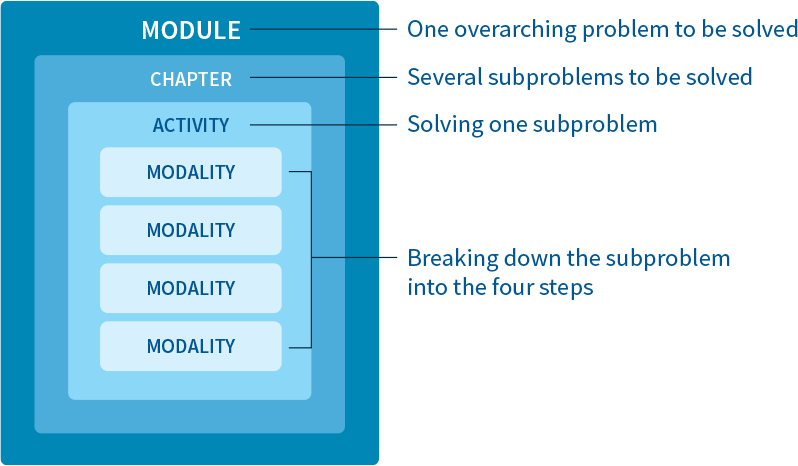 pedagogical requirements onto the fully featured computational core system, meaning students use real tools in a supportive environment (with or without a teacher).
A crucial part of education is to learn today's up-to-date, real-life machinery. CBM has layered necessary pedagogical requirements onto the fully featured computational core system, meaning students use real tools in a supportive environment (with or without a teacher).
What we're doing is fundamentally different from anything that's gone before because CBM assumes today's modern computing is available to students for computation and builds on that assumption, even if this conflicts with the history of maths education.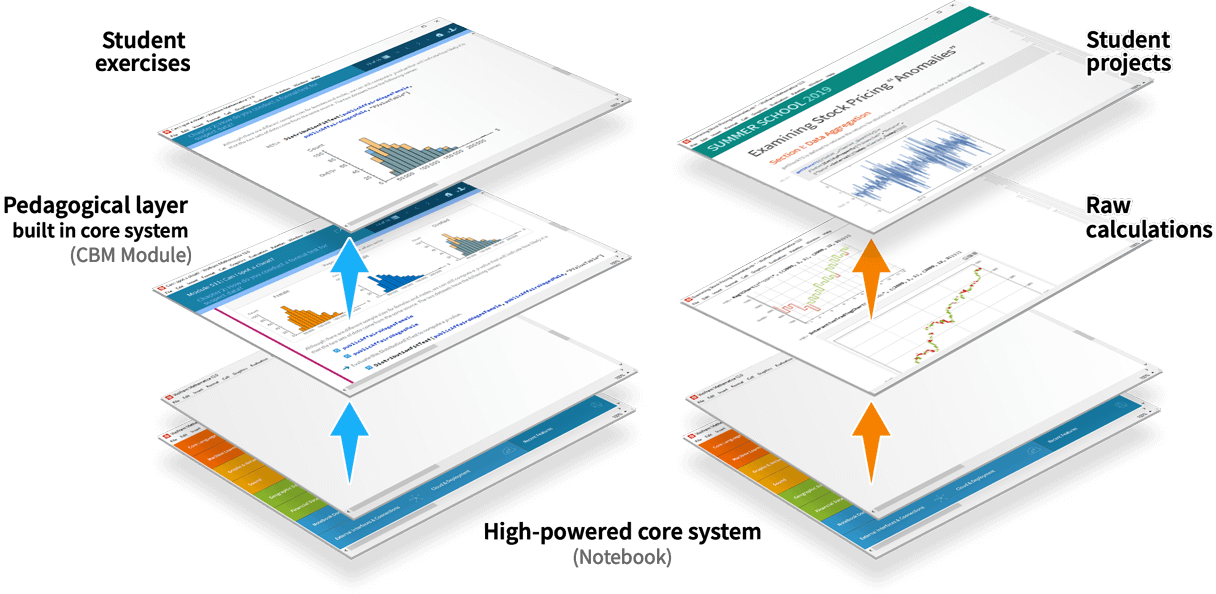 ---
Steps and Plan
We see several phases in CBM's development. First, to build out a core of modules that transcends the key areas of maths. These modules will cover a range of abilities but will initially focus on secondary and adult learning. We have redefined the levels at which each module is targeted since we believe much of today's school curriculum is misordered: based on difficulty of hand calculating, not conceptual complexity.
Now, we are creating 500–1000 learning hours of content, building on a honed central architecture of ideas and processes developed in CBM's early years. This material can be deployed in both teacher-led and self-study scenarios. Over time, these modules will be repurposed with new context and different ability levels. Eventually we want all students, teachers, schools, employees and employers to be able to benefit directly and immediately.
Initially, so we can fund and tether our core development, we have focused on larger projects with early-adopter countries, school and university networks, corporates and assessment bodies.
Invaluable to CBM's development is the involvement of as wide a group as possible—not just maths educators or policymakers, but the full gamut of those with a stake in maths—whether scientists and engineers or people from companies, government and higher education.
CBM summits—in London, and cohosted by UNICEF in New York—have been instrumental in bringing together this broad expertise.
Through these summits and other outreach, CBM has acquired a huge following and presence in almost every country in the world.
---
What You Can Do
Read The Maths(s) Fix
Conrad Wolfram's groundbreaking book fully exposes why maths education is in crisis worldwide and how the only fix is a fundamentally new mainstream subject.
Buy now
Campaign for change
We have set out our five main principles for core computational curriculum change (MFC5).
Support the campaign
Role by role: Actions for you
Whether you are a student, policymaker, parent or educator, you'll find a list of ideas to get you started on the change to modern computational thinking.
Get started
Contribute to the community
Talk to us about the direction of curriculum development or suggest new ideas to include.
Community